Poetry Break #3b
Introduction: Many children grown up falsely believing if a poem does not rhyme then it is not a poem. Poems are about expressing thoughts and emotions. The element of rhyme is optional in poetry. Read following poem to your class: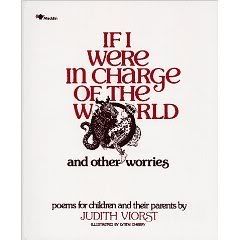 My Cat
by Judith Viorst
My cat isn't stuck up,
Even though
He's the handsomest cat in
the world,
And smart,
And brave,
And climbs the highest trees.
My cat will sit on your lap and
let you pet him.
He won't mind.
He thinks human beings are
Almost as good
As he is.
[From: If I were in charge of the world and other worries. By Judith Viorst and Lynne Cherry, Atheneum, 1981.]
Extension: There are many forms of poetry that do not rhyme (i.e. free verse, haiku, Tanka, and Sestina). Read some more examples to your class. For an alternate activity have them create a free verse poem on the topic of their choice.